Catalogs and On-line Shopping
Software and Track Measurement
Heart Rate Monitors
For more information regarding training with a heart rate monitor checkout Dave McGovern's Worldclass Walking web page. Dave has several great articles on the benefits and when to use a heart rate monitor. You can also buy from Dave and support his long years of supporting racewalking.
Stopwatches
Racewalking Shoes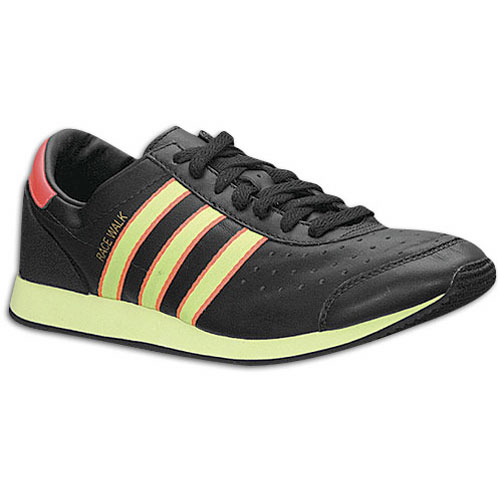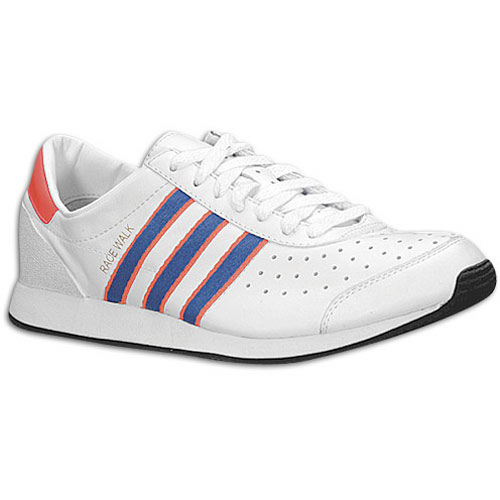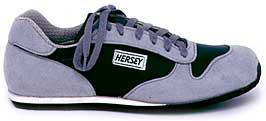 Over the years that have been a few major athletic shoe manufactures such as Addias, New Balance, Nike that have mass produced shoes specifically for racewalkers.
Or you can do like Govindasamy Saravanan of Malaysia race walking barefoot. Yikes! (Update September 1998: Maybe there is something to this. Govindasamy won the gold medal at the 1998 Commonwealth Games in Kuala Lumpur. Malaysia first gold medal. I wonder if he walked bare foot.
Here is an article from Dave McGovern regarding finding shoes that are suitable for racewalkers: Best Mens Racewalking Shoes by Dave McGovern .
Coach Carmen® Race Walk Shoe
Here is a dedicated Racewalking shoe: The Coach Carmen™ Race Walk Shoe has a four-part midsole. (Colors do not match the final shoe.) Each piece is angled in nature. The gray part above the blue section is a heel wedge for comfort at impact. The blue heel section piece is the most firm and is designed to provide lateral stability at impact. The gray center piece is a pivot part which is softer than the heel section. The white toe section is resilient, encouraging a spring in your step. The angles of the gradient parts are steeper than those in the casual/training model. The result is a quicker rollover for walkers on the move. Finally, the outsole is a newly released Vibram® LiteBase 100% rubber product that is both lightweight and durable. The lugs offer traction for the trail, track and road.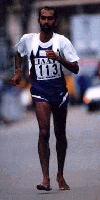 Hersey Custom Shoe Company
201 Lunenburg Street
Fitchburg, MA 01420
USA
tel: (978) 345-1313
Links
from the Hersey Custom Shoe Company web site
Hersey Custom Shoe Company was founded in 1982 when Bart and Jan Hersey began making custom running shoes in a converted Maine sheep barn. Bart had been director of manufacturing for some of the major shoe companies and was yearning to slow down. He loved making shoes himself and figuring out ways to blend new technologies with the forgotten wisdom and techniques of the old-timers. Jan, his wife, was great at managing details, so together they launched a tiny cottage industry that was to make a surprising impact on the shoe world.
Even more information, discussion and comments on this listing.
Reshod
16055 SW Walker Road
PMB 112
Beaverton, OR 97006 USA
Links
from the Reshod web site
The Reshod Difference - The midsole in a Reshod Walking Shoe is comprised exclusively of angled foam components, as opposed to ones that are vertical or horizontal in nature. We believe that walking is a rolling motion and are committed to providing products that offer a smoother ride for walkers who stride heel-to-toe.
Even more information, discussion and comments on this listing.
Just browsing over both books, they look fantastic! I'm a guitarist and uke player for over 25 years and was thinking about writing a ukulele book but you've already written what I think are the best, most comprehensive and thorough books I've ever seen for the instrument. I just might end up buying every book you've written and I'll be giving my highest recommendation for your books to my friends and students. Thank you so much for taking the time to write such great books! — Peter Rhee
Aloha, Curt, All I can say is WOW! What you have accomplished is simply incredible! All the best — Glen Hirabayashi, The Aloha Boys
Folks, if you haven't stopped by Curt's site, do so right now! ..And get his books, they are fantastic. This guy knows his stuff and is able to pass it along too. — Alan Johnson Proprietor, The 4th Peg
I can highly recommend Curt's Uke books — I have four of them and they are excellent. — fatveg — Portland